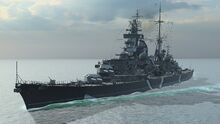 The SHS Friedrich der Grosse was a Belkan Navy armored cruiser that saw service during the Belkan War of 1995. It served as the vessel of the deputy commander of the High Seas Fleet.
Ad blocker interference detected!
Wikia is a free-to-use site that makes money from advertising. We have a modified experience for viewers using ad blockers

Wikia is not accessible if you've made further modifications. Remove the custom ad blocker rule(s) and the page will load as expected.