The Heckler & Koch G11 is a non-production prototype assault rifle developed during the 1970s and 1980s by Gesellschaft für Hülsenlose Gewehrsysteme "Corporation for Caseless Rifle Systems", a conglomeration of companies headed by firearm manufacturer Heckler & Koch (mechanical engineering and weapon design), Dynamit Nobel (propellant composition and projectile design), and Hensoldt Wetzlar (target identification and optic systems). The rifle is noted for its use of caseless ammunition. It was primarily used for self defence by Rikhart Harken, a mercenary ace pilot, due to its compact design.
Heckler & Koch G11
Type
Assault rifle (G11) Light machine gun (LMG11) Personal defence weapon (G11 PDW)
Place of origin

West Germany (real world)


Belka (strangereal)

Production history
Designer

Heckler & Koch (Real World)


Grunder Ind. (Strangereal)

Variants
Assault Rifle

Light Machine Gun (LM G11) Personal Defence Weapon (G11 PDW)

Specifications
Weight
3.6 kg (8.0 lb) empty, 4.3 kg (9.5 lb) loaded
Length
750 mm (29.5 in)
Barrel length
540 mm (155 mm per twist)
Cartridge
4.73x33mm caseless ammunition
Action
Gas operated rotary breech, Select fire
Rate of fire
550 rounds/min full auto, 2200 rounds/min 3 round burst
Muzzle velocity
Approx. 930 m/s (3,050 ft/s)
Effective range
400 m
Feed system
45 or 50-round detachable box magazine
Sights
Integrated optical sight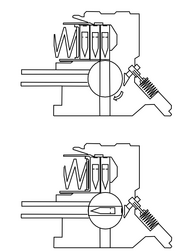 Ad blocker interference detected!
Wikia is a free-to-use site that makes money from advertising. We have a modified experience for viewers using ad blockers

Wikia is not accessible if you've made further modifications. Remove the custom ad blocker rule(s) and the page will load as expected.