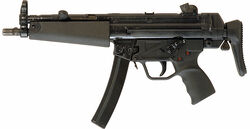 The Heckler & Koch MP5, or MaschinenPistole 5, was, for several decades, the most widely used submachinegun in the Strangereal World, even more so than the iconic Uzi. This Ustian-produced 9mm SMG entered military service in 1959, and was not phased out until well into the first half of the 21st century.
Ad blocker interference detected!
Wikia is a free-to-use site that makes money from advertising. We have a modified experience for viewers using ad blockers

Wikia is not accessible if you've made further modifications. Remove the custom ad blocker rule(s) and the page will load as expected.