Hello, and welcome to
Ace Combat Fanon
, a site dedicated to fan-created fiction (
fanon
) based on
Ace Combat
, gaming's leading flight simulation series.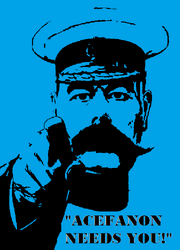 Site Overview
This site was formed in late July 2009 as an effort to reduce the flow of fanfiction posted in Acepedia, the main site.
Ad blocker interference detected!
Wikia is a free-to-use site that makes money from advertising. We have a modified experience for viewers using ad blockers

Wikia is not accessible if you've made further modifications. Remove the custom ad blocker rule(s) and the page will load as expected.