Ace Combat 7: The new war
1-The Begin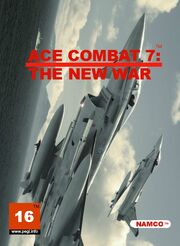 7:00 AM
!8/10/2002
G&DO industries
A man says, "Where do we stand with the project Jack?"
Dr.Domaine: "Ready for the mission to assault the beach."
The Perfect Man: "All right, turn it on."
Dr.Domaine: "Of course Captain Jack goodbye."
Jack (on the screen): "BUONGIORNO."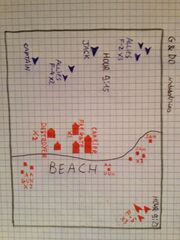 Dr. Domaine: "Excuse me, is still set in Italian. Changes Jack English."
Jack: "HELLO."
Captain: "Well let's start with the briefing."
Dr.: "Your task is to shoot down the ships docked at the port and patrol aircraft that will arrive at 9:23."
Jack: "OK, OTHER TROOPS DEPLOYED A GROUND ATTACK?"
Dr.: "No, I think that the captain and his allies."
Jack: "OK."
Jack (calculations on the screen): "230 x 15 = √ Π = 2 x 10: 36 = ............... ESTIMATED ARRIVAL AT THE PORT FOR 9:15."
Dr.: "ok."

7:25 AM

18/10/2002

G & DO Industries Hangar
Dr. Domaine: "JacK, airplane A-4."
Jack: "OK."
Dr.: "How do you feel?"
Jack: "WELL, THANK YOU."
Dr.: "You have already mounted machine gun and missiles, you can choose between the free-fall bombs and cluster bombs."
Jack: "THE CLUSTER BOMBS."
Dr.: "Ok."
Captain: "The take-off is scheduled for 8:40."
Jack: "OK."

9:15 AM

18/10/2002

St. Rolem port
Snape: "Here is one Snape, Snape squadron break off and attack the SAM."
Kask, "Here is one Kask, team Kask attack the AA gun."
Dr. Domaine: "Jack send me details of your attacks."

9:22 AM
Jack: "ENEMY FLEET DESTROYED, I CONTINUE MOUNT PLANE."
Dr.: "The F-5 enemies have arrived."

9:28 AM
Jack: "KILLING 2 F-5, IL 3 IS ON THE RUN, FOLLOWED ATTACK?"
Dr: "Negative, falls immediately to the base, landing just send me the result of the mission."
RESULT
MISSION ACCOMPLISHED
% ENEMIES DESTROYED: 94.3%
% DAMAGE: 13%
Ad blocker interference detected!
Wikia is a free-to-use site that makes money from advertising. We have a modified experience for viewers using ad blockers

Wikia is not accessible if you've made further modifications. Remove the custom ad blocker rule(s) and the page will load as expected.